LANGUAGE :

Vietnamese

Russian
Although the number of passenger diesel vehicles has gradually decreased due to the adoption of hybrid and electric vehicles, many diesel vehicles can still be spotted on the road. Diesel vehicles can be classified into several categories depending on their characteristics. Likewise, engine oils for diesel cars are also categorized according to vehicle-specific maintenance needs and characteristics. This article will walk you through Kixx's Diesel PCMO (Passenger Car Motor Oil) lineups.
When it comes to vehicle maintenance, some drivers prefer to take a hands-on approach in choosing their vehicle's engine oil. In most cases, the first step in choosing the best engine oil for a car is to check the vehicle's manual. European Automobile Manufacturers Association (ACEA) specifications and API are used as the standard oil grades for diesel vehicles as well as gasoline vehicles.
Both ACEA and API are diesel engine oil standards used worldwide, though one standard may be used more commonly than the other depending on the country.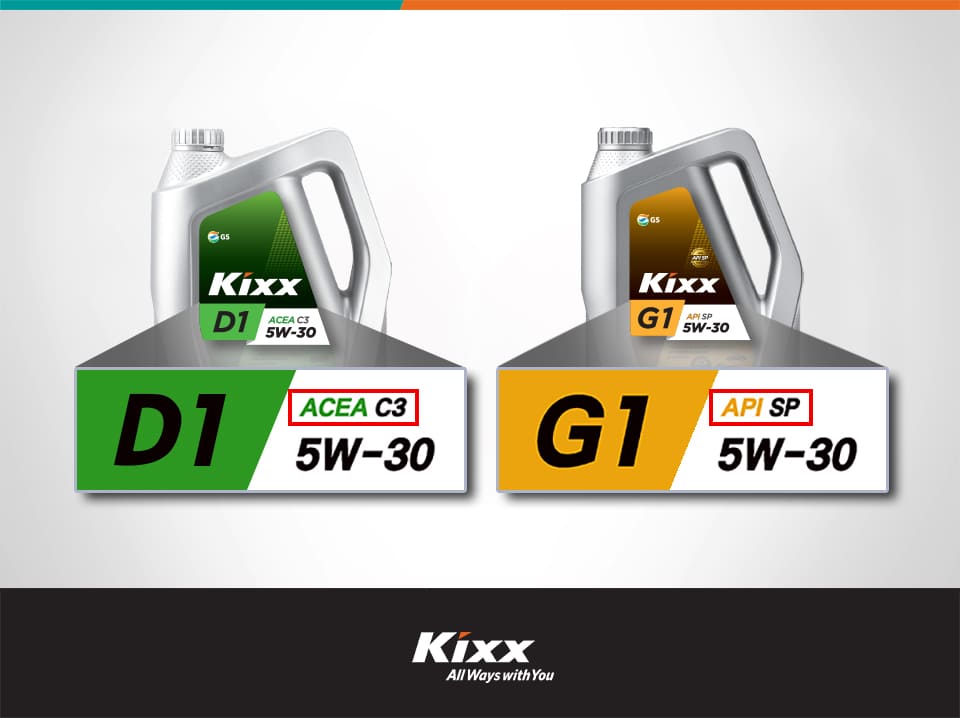 Checking whether the vehicle is with or without a diesel particulate filter (DPF) is an obligatory step to take before purchasing motor oil for diesel engines since the DPF could be damaged if the wrong engine oil is used. Based on ACEA specifications, A/B grade engine oil products are appropriate for use in vehicles without a DPF only, and C grade products can be used for vehicles with or without a DPF.
1. Kixx PAO Lineup: Engine Oil Manufactured With PAO Synthetic Base Oil
1.1) Kixx PAO1 0W-30, 0W-40
The first product in the Kixx diesel engine oil lineup is Kixx PAO1, the first premium engine oil in South Korea made from 100% PAO, a synthetic Group IV base oil. PAO, or polyalphaolefin, is an artificially manufactured base oil made through synthesis. Since its major performance features such as low-temperature fluidity, oxidation safety and thermal stability are superior to other types of base oils, PAO is widely used as a raw material for high-quality engine oil.
Because standard engine oil is comprised of approximately 80-85% base oil, we can easily deduce that engine oil performance is determined by the quality of its base oil. For this reason, customers can expect excellent performance from 100% PAO-based Kixx PAO1. In addition, Kixx PAO1 is designed to meet the highest level of specifications required by most imported vehicles.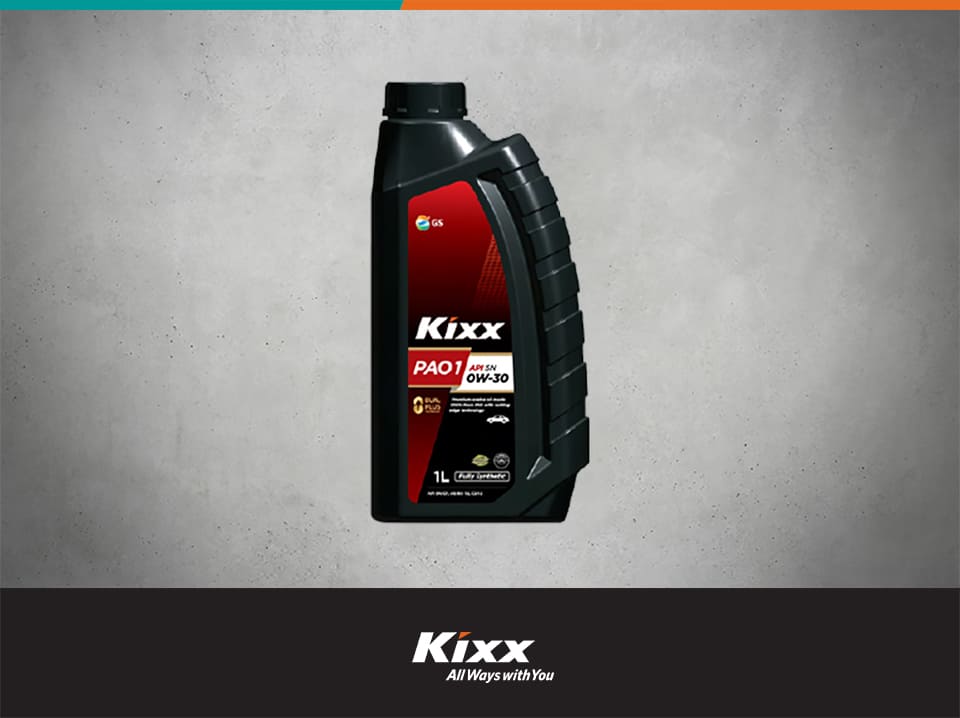 Vehicles suited for Kixx PAO1 products are those with ACEA C2 (0W-30) and C3 (0W-40) engine oil recommendations. It can also be used in High SAPS, ACEA A/B recommended vehicles without a DPF. For gasoline vehicles, Kixx PAO1 is suited for vehicles that recommend using API SN engine oils and is offered in viscosities of 0W-30 and 0W-40.
1.2) Kixx PAO C3 5W-30, 5W-40
As its name suggests, Kixx PAO C3 is a premium diesel engine oil formulated from PAO-added VHVI base oil using high performance additive technology. It meets both API SN and ACEA C3 specifications, ensuring higher durability and outstanding engine protection.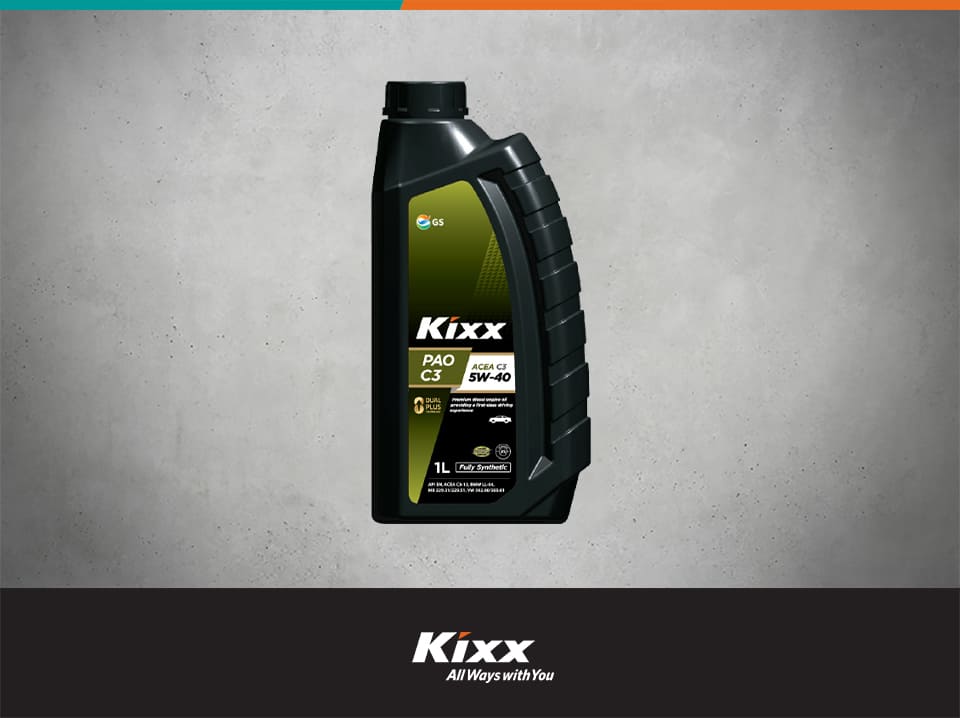 Kixx PAO C3 also helps prevent the engine's camshaft wear and prolongs engine life with exceptional anti-oxidation stability. This product can be used in diesel vehicles with a DPF as well as gasoline vehicles that recommend using an API SN oil with an SAE viscosity of 5W-30 or 5W-40.
Kixx D1 C3: All-round Diesel Engine Oils Made With 100% Synthetic Oil
Kixx D1 C3 is a premium Low SAPS diesel engine oil that meets both API SN and ACEA C3 specifications. Best suited for vehicles with a DPF, Kixx D1 C3 helps maximize engine life based on outstanding wear protection and can be used for both diesel engine passenger vehicles with a DPF or three-way catalytic converter (TWC) as well as gasoline vehicles that meet API SN specifications.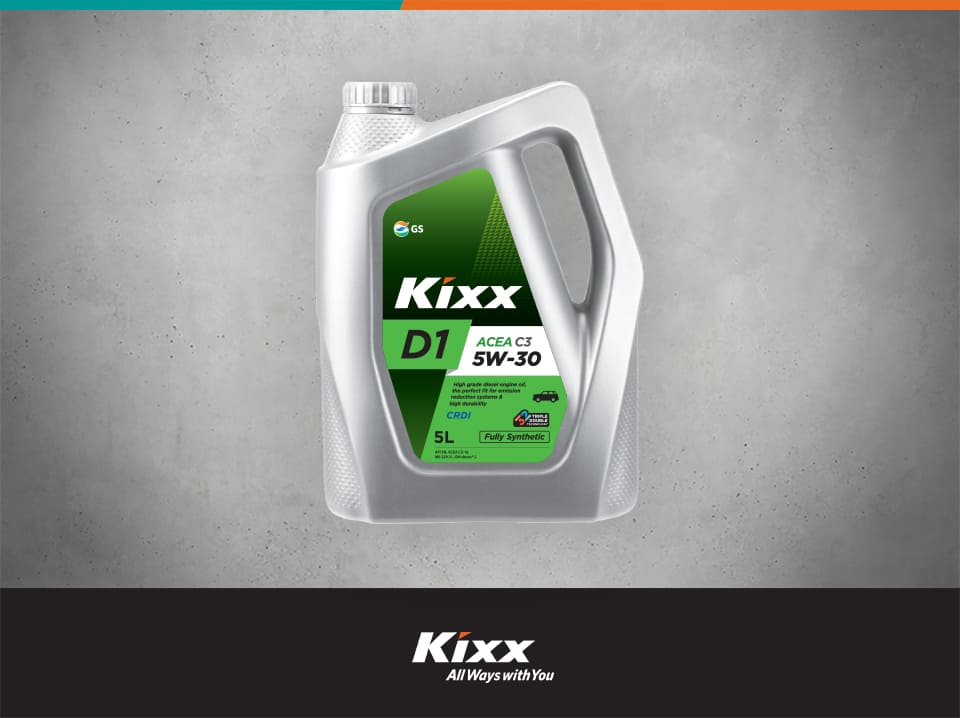 Kixx D1 C3 extends the service life of emission after treatment systems by preventing clogging in DPFs and TWCs. It also provides excellent low temperature fluidity for quick and easy start-ups in cold weather.
Today, Kixx has taken a closer look at some of its diesel engine oil products. Remember, when selecting the best engine oil for your vehicle, begin by first checking the manual for ACEA specifications and whether it is equipped with a DPF.
In accordance with the latest environmental regulations, Kixx has continued to advance its products to improve vehicle fuel efficiency and high-power output response. Kixx will carry on to pursue and further develop high-quality diesel engine oils for passenger vehicles in South Korea and around the globe.