LANGUAGE :

Korean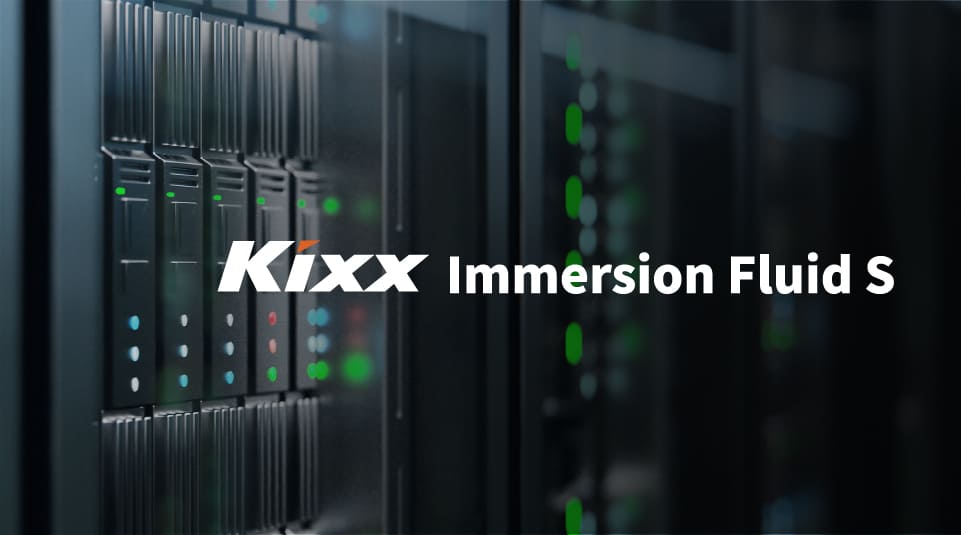 This November, Kixx launched its 'Kixx Immersion Fluid S' – a cooling solution that helps data centers improve performance while reducing energy costs. By cooling equipment more efficiently than traditional air-cooling systems, it enables data centers to deliver more computing power while maintaining ideal temperatures and better protecting equipment.
Game-Changing Cooling for Data Centers
Big data computing, IoT, and AI assistants are pushing today's data centers to their limits. And as demand heats up, keeping those centers cool becomes more costly, while the amount of energy needed to power traditional air-cooling systems rises every year. With today's digital services dependent on a growing number of data centers, efficient cooling options are becoming a major concern, pushing data centers to search for better ways to chill their servers, CPUs, and other core equipment.
Immersion cooling can help carry that load. It uses a dielectric fluid to directly cool equipment in a more targeted way than air-cooling, leading to notable savings in energy use and better protection for equipment over time. And the benefits go beyond data centers. Those improvements in cost saving and efficiency are pushing immersion to the forefront of cooling in a diverse range of fields – from electric vehicle (EV) batteries and high-speed EV chargers to energy storage systems (ESS) and beyond.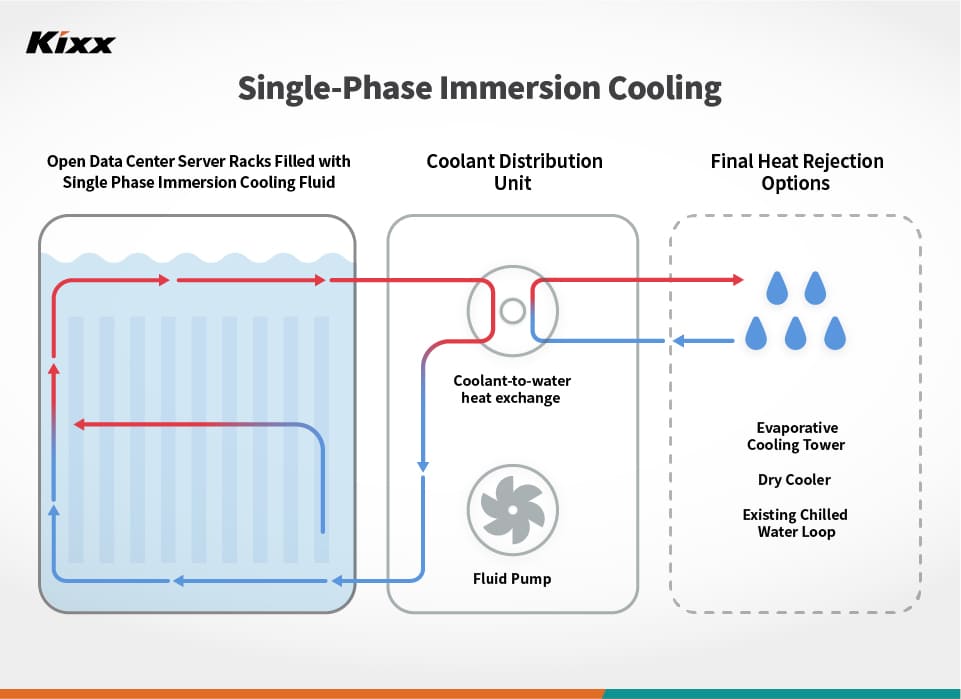 Why Immersion Cooling is Better for Data Centers than Traditional Air-Cooling
Compared to traditional air-cooling systems, immersion cooling is still a relatively new technology, but it is already being lauded by industry leaders and research institutes for its ability to save energy and improve performance for data centers.
It's estimated that close to 40%¹ of a data center's energy costs come from cooling, with many of them relying on large-scale air-cooling systems to keep those servers and CPUs at ideal temperatures. But power-hungry air-cooling systems are often an inefficient way of cooling equipment.
­Immersion cooling offers a far more efficient option. Research shows it can cut energy use by 50%² or more for data centers. As a far more compact system, it can also reduce occupied space and cut out the need for large cooling system installation, leading to increased profitability and up to a 33%³ lower total cost of ownership (TCO) over air-cooling alternatives.
There are also benefits to the equipment itself. Numerous studies have shown that immersion cooling lengthens equipment life and decreases the frequency of breakdowns. Because it conducts heat 1,200 times⁴ better than air and removes heat more efficiently, it enables servers to run faster and cooler, while offering improved protection against heat, dust, and vibration.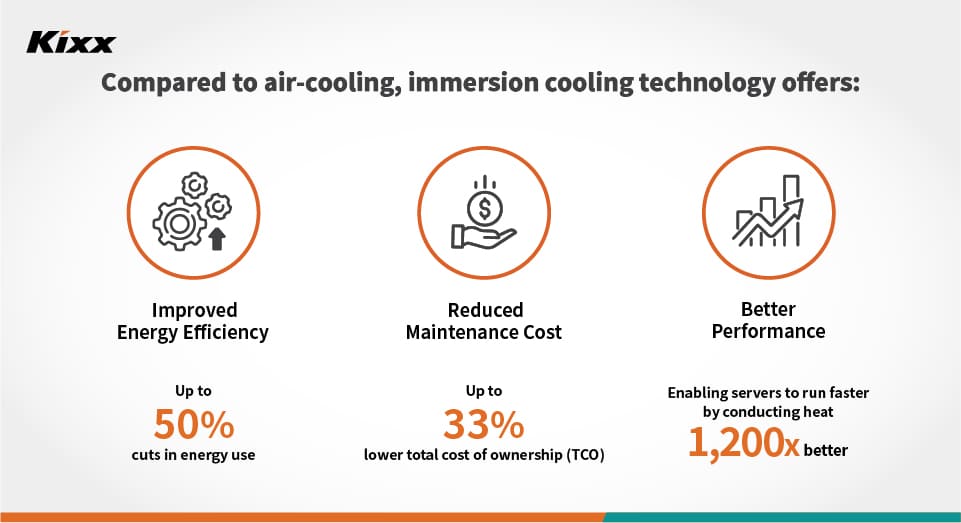 Proven to Help Data Centers Improve Reliability and Performance
Kixx Immersion Fluid S's performance has been proven through actual server tests with global server companies and startups. Kixx tested servers with Kixx Immersion Fluid S and saw improvements in stability and consistent temperature maintenance, allowing servers to operate smoothly while reducing energy used for cooling.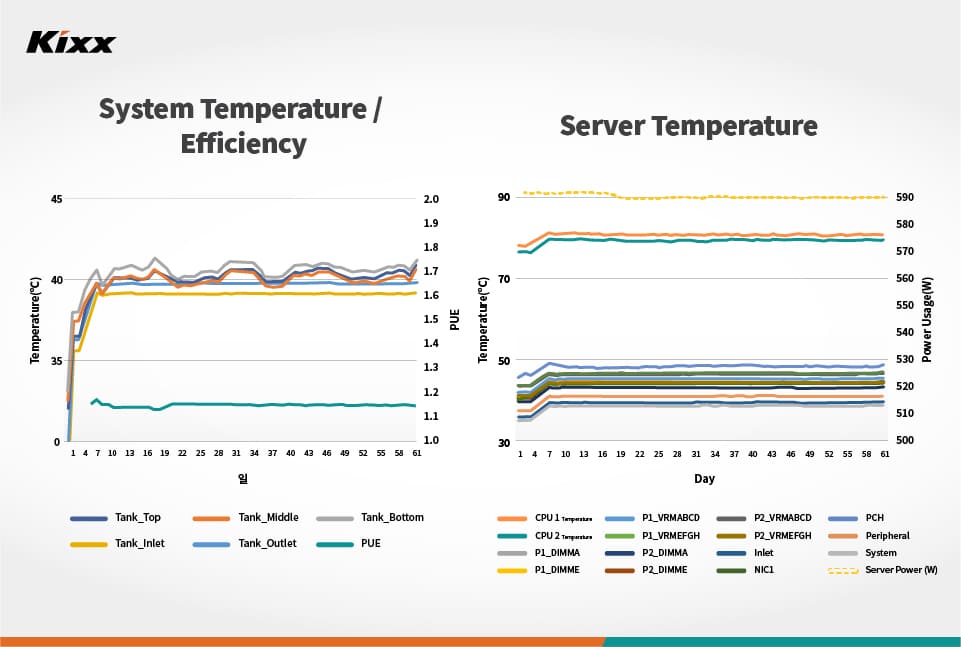 Since most data centers need to be operational 24/7, Kixx Immersion Cooling Fluid S was also tested for longevity to ensure it can maintain the highest quality protection for servers even after repeated use. Kixx Immersion Fluid S proved its ability to maintain the key properties required by the Open Compute Project (OCP) for equipment protection, and outperformed competitors in service life comparison tests.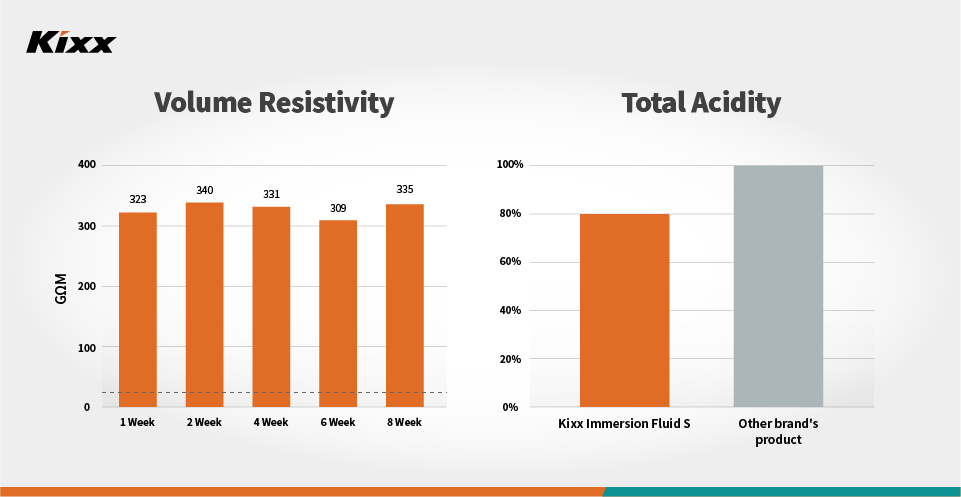 In addition, Kixx Immersion Fluid S is made with human-friendly materials and is NSF Food Grade Certified. It's made with biodegradable materials that help to minimize its impact on both the human body and the environment.
As the demands for cooling evolve, Kixx is leveraging its decades of industry-leading innovation to develop novel solutions for data centers and beyond. By working with partners in a diverse range of industries, Kixx is creating technical solutions tailored to the changing demands of a fast-moving digital world. In addition to immersion cooling fluids for electric vehicles and energy storage systems, Kixx is giving data centers the solutions they need to run cooler, operate faster, and stay at the forefront of today's digital advancements.
[References]
Learn more about Kixx Immersion Fluid S on KixxOil.com: