LANGUAGE :

Korean
Today, with agricultural activities becoming increasingly mechanized, the need for high-performance agricultural equipment continues to rise. In fact, experts predict that the market for such equipment will grow from $105 billion in 2019 to more than $166 billion by 2027.
The list of agricultural equipment is long and varied, and each piece of machinery requires high-quality lubricants to help ensure long component life and to minimize costs associated with maintenance and unplanned downtime.
With its top market share in the Korean market and its comprehensive portfolio of agricultural lubricants, it's easy to see why manufacturers around the world trust Kixx to provide the performance their equipment needs to get the job done.
Understanding Agricultural Lubricants' Impact on Maintenance
Farming equipment comes in many shapes and sizes. Included among the most in-demand equipment in farming today are tractors, combines, planters, balers, sprayers, harvesters, cultivators, and rotary tillers.
Although these and other examples of farming equipment are similar in many respects to construction equipment, because they feature different user applications, they require a different approach when it comes to maintenance. Whereas construction equipment, which is mainly utilized for construction and civil works, typically operates in a limited working space, farming equipment is used in relatively large spaces and therefore requires greater mobility.
In addition, the farming equipment category includes more seasonal machinery than construction, and equipment is segmented by size and the method of farming. This means that most farming equipment users face unique requirements based on their crops, farming methods and scale. Because most users are individual farmers whose bottom lines can vary greatly depending on the season, the cost savings associated with selecting appropriate lubricants can be especially important to farmers' livelihoods.
The Importance of Choosing the Right Lubricant
Kixx offers agricultural lubricants that are suitable for a wide range of farming equipment. Lubrication needs vary by type of machinery, so it's important that you choose the optimal lubricant for each and every component such as engine oil, transmission oil and axle oil, and select a universal tractor transmission oil (UTTO) that's formulated for use in the transmissions, brake, and hydraulic systems of modern farming, industrial wheel and crawler tractors.
Different pieces of farming machinery call for different types of lubricants. Here are our suggestions for common components based on their individual lubrication needs.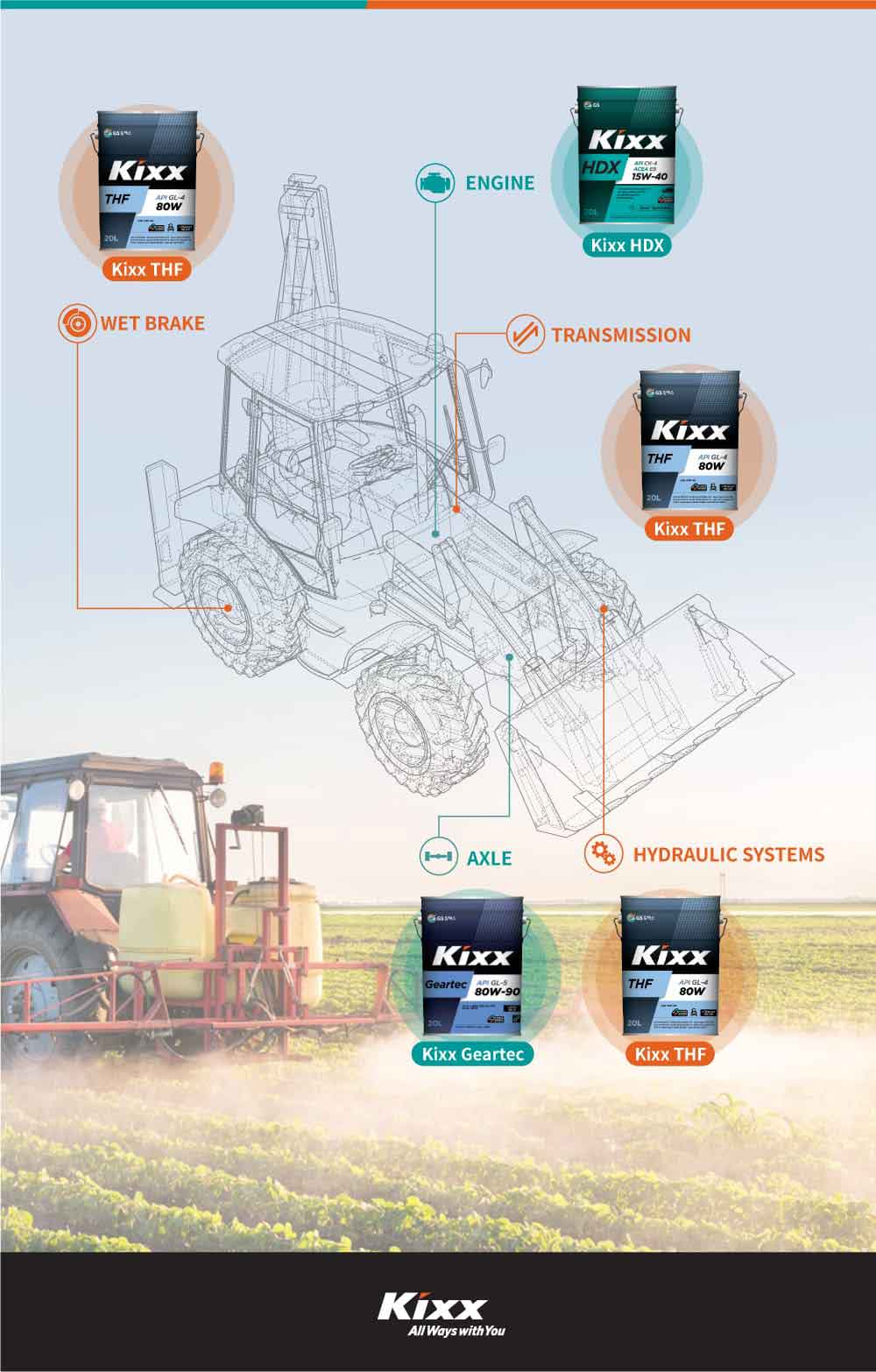 Benefits of Choosing Kixx Agricultural Lubricants
Kixx offers a complete range of agricultural lubricants, as well as greases and diesel oils for other equipment. Choosing Kixx lubricants can enhance farming machinery with: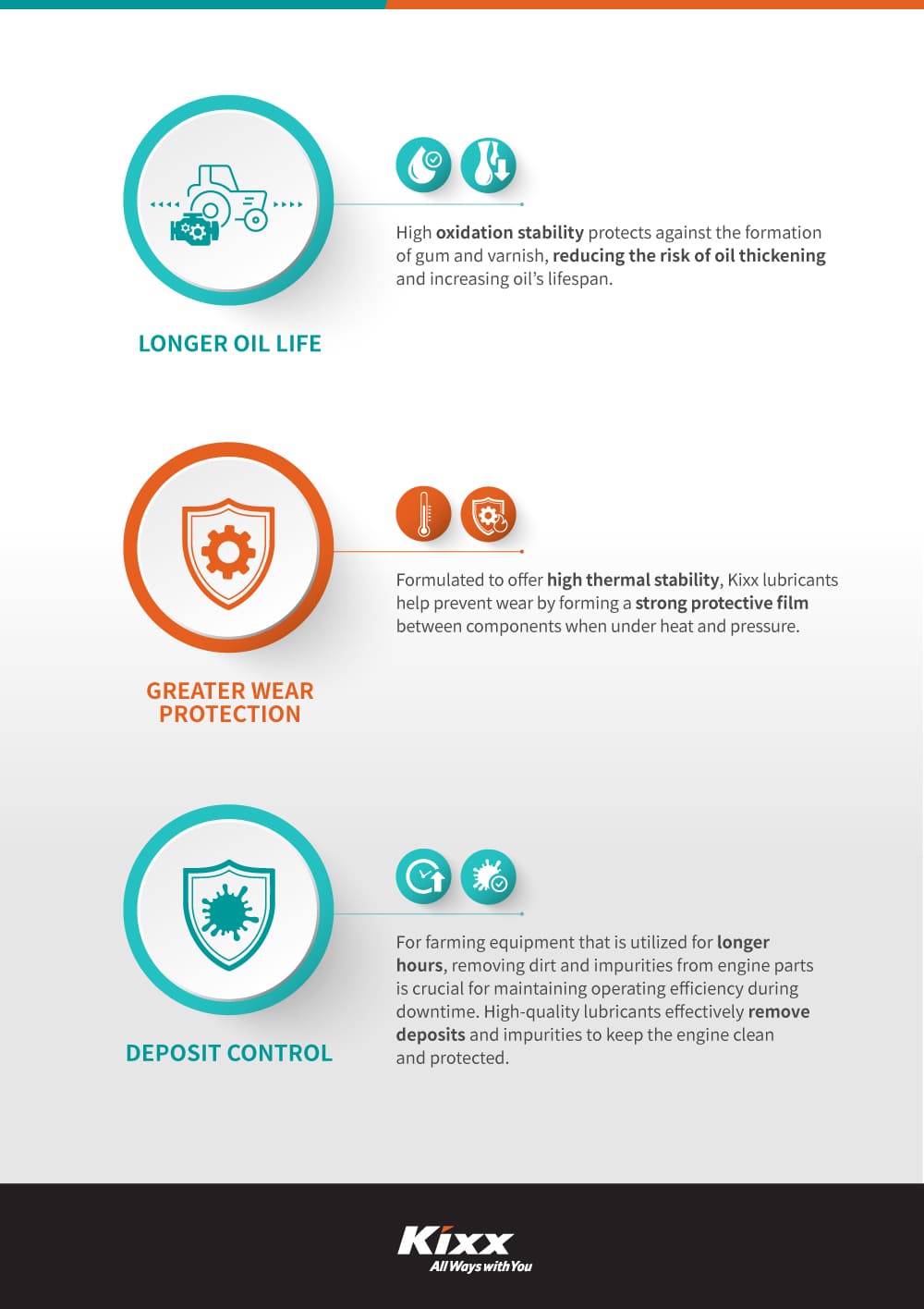 Solutions Trusted by Farmers Around the World
Today, with supplying lubricants including engine oil and tractor mission oil to major local manufacturers like LS Mtron, Tong Yang Moolsan(TYM), Kukje Machinery, and Asia Technology, Kixx holds the No. 1 share in the Korean agricultural lubricant market, and is expected to provide 65 percent of the market's 2021 estimated annual demand of 30,000 drums (Source: GS Caltex).
Now, the company has set its sights on making a name for itself in the global market. Utilizing GS Caltex's world-renowned lubricant technologies, Kixx will strive to secure its place among the world's most trusted agricultural lubricant brands by continuing to offer manufacturers around the globe access to reliable, high-performance solutions.