LANGUAGE :

Vietnamese

Korean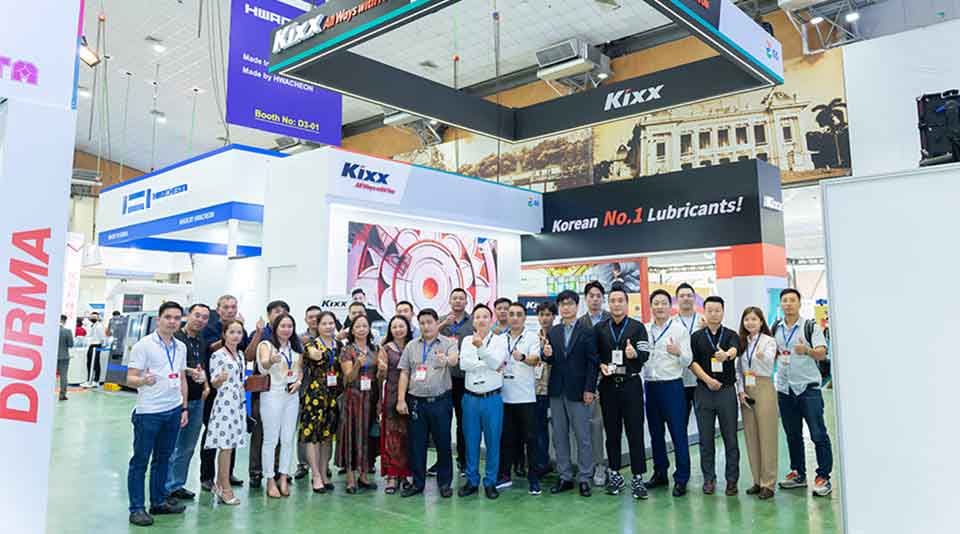 Kixx has showcased its superior industrial lubricants to the Vietnamese market at MTA Hanoi 2022 (Vietnam International Precision Engineering, Machine Tools and Metalworking Exhibition and Conference), a prestigious industry event held at the International Centre of Exhibition (I.C.E.) from October 12-14.
Established in 2005, MTA Hanoi is one of the biggest engineering and manufacturing exhibitions in Northern Vietnam, presenting guests with the latest products and technology in the precision engineering, machine tools and metalworking fields. The event draws attendance from thousands of industry experts and corporate clients each year.
Kixx's involvement in MTA Hanoi 2022 carries noteworthy significance as this was the first time GS Caltex, Kixx's parent company, officially led and supported Kixx's participation in an industrial exhibition. Visitors to the Kixx booth had the opportunity to learn about Kixx's wide range of industrial lubricants including hydraulic fluid, general machine lubricants and gear oils. Kixx also presented sessions on their key product benefits to further solidify the company's network and expand its customer base in Southeast Asia.
"GS Caltex is the first privately held oil refining company in Korea, providing customers with high-grade base oils, chemicals and finished lubricants while leading lubricant sales volume in Korea and exporting to more than 60 countries," stated Mr. Yong Yunkyung, Vice President of Finished Lubricants Business at GS Caltex Corp. "Since 2005, we have introduced end users in Vietnam to high-quality automotive and motorcycle lubricants with the launch of the Kixx brand. Today, through the MTA Hanoi 2022 exhibition event, we would like to strengthen our presence in the Vietnamese market, introduce customers to Kixx's first-rate industrial oil product lines and indicate our readiness to collaborate with industry partners."

Prior to MTA Hanoi 2022, Kixx hosted its own Industrial Lubricant Conference 2022 on October 11 at the Lotte Hotel in Hanoi. More than 40 key dealers and potential clients were invited to the seminar where Kixx delivered a presentation and hosted a Q&A session in which guests were given extensive insight into the company's areas of expertise as well as its brand history that stretches back more than 50 years.

Through these efforts, Kixx has strengthened the company's bond with its valued customers and taken a step further into the global market. With high aspirations, GS Caltex will continue to push the boundaries of what's possible, leveraging global consumer trends and emerging technology to become the top lubricant brand chosen by customers. Kixx aims to strategically cooperate with Vietnamese engineering partners and journey together in expanding Vietnam's industry. For more information on Kixx's superior industrial lubricants, visit KixxOil.com.