There are many choices when it comes to picking the appropriate oil for your car's engine. Our guide breaks down your choices to help you in the quest to change your oil.

The first step in choosing the right engine oil is knowing the make and model of your vehicle. New high-performance engines are being developed to improve efficiency and newer oil formulations have been developed to help keep up with these upgrades.

Whether you live in a hot or cold climate, or typically use paved or unpaved roads, you should think about the conditions you normally face when driving. Different conditions can put strain on your vehicle in different ways, such as requiring frequent changes of your engine oil. The conditions where you live and drive are important to consider when deciding what type of motor oil is right for you.

▲ Knowing the climate and road conditions of your driving is an important step in choosing the right engine oil

Once you know the make and model of the vehicle, you can choose the type of engine oil: mineral or synthetic oil. The base oil accounts for to 80%-90% of an engine oil's make up, making your oil type selection an important decision. Each type of oil has pros and cons, so knowing which type of oil fits your car and your driving style is crucial.


When comparing engine oil products, you may notice confusing codes with numbers and letters on the packaging. These indicate viscosity grade, a measurement of the oil's resistance to flow. It is an important factor to consider, along with climate and driving conditions, when searching for the right engine oil.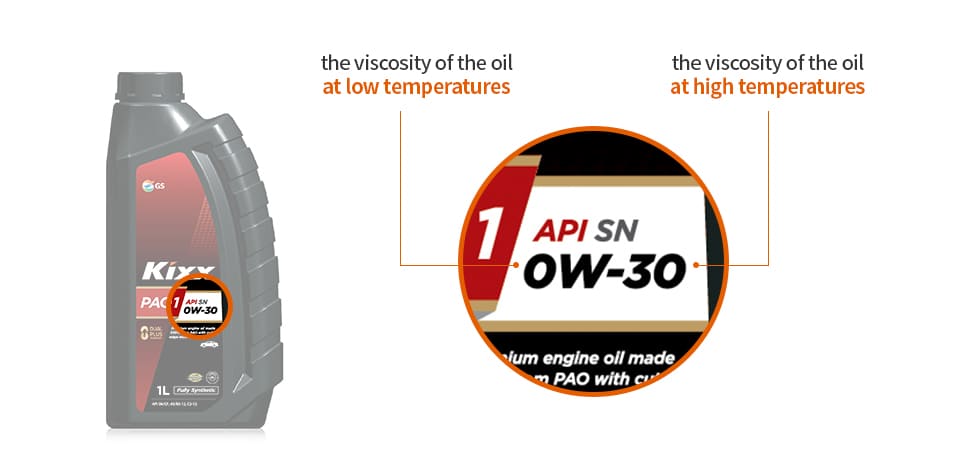 There are two numbers that define the viscosity of an oil. The first number ends with the letter 'W', which stands for Winter. This measurement is related to how an oil flows when it is cold, such as on engine start-up. The second number is defined by how an oil flows at normal operating temperatures.
Thin, low viscosity oils flow easier to protect engine parts at colder temperature. Thick, high viscosity oils are typically better at maintaining film strength to protect engines at higher temperatures. You can find the right viscosity for your vehicle by looking on the oil cap or in the owner's manual.

If you take a closer look at the label, you will also find engine oil standards indicated by different acronyms such API, ACEA, ILSAC. This means that the product meets or exceeds the requirements set by these organizations. Specifications are important as they indicate the performance and quality of the oil.
The most popular standards are API (American Petroleum Institute) and ACEA (European Automobile Manufacturers Association).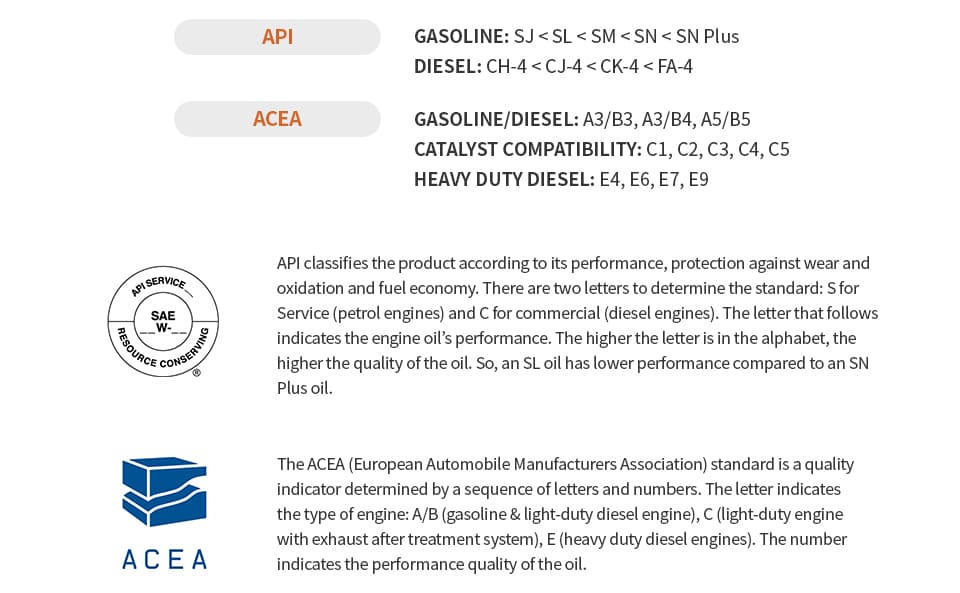 Understanding engine oil and making the right choice for your car can be difficult but choosing the right engine oil will extend engine life and allow your engine to operate efficiently. Keep these 5 considerations in mind the next time you're looking for the right oil to optimize the performance of your engine.