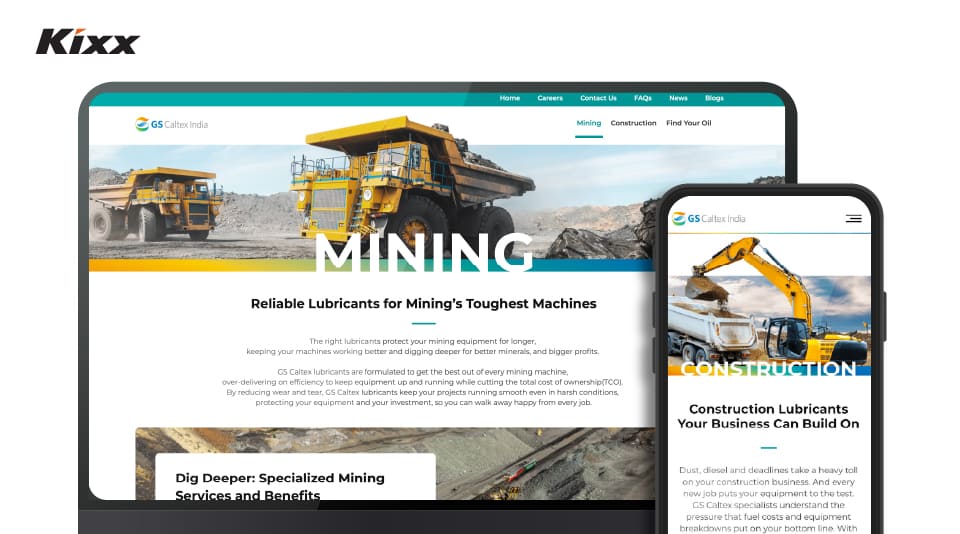 GS Caltex India Private Ltd. (GSIPL) has announced the launch of a brand-new microsite, designed to be a valuable resource for the mining and construction sectors. With the new microsite, which launched April 1st, 2023, GSIPL aims to deliver useful information about Kixx's mining and construction products and services to the Indian market. The microsite will serve as the definitive reference site where industry professionals can learn about how Kixx can benefit their business.
Discover Useful Industry Insights to Take Your Mining and Construction Business Further : Informative Brochures, Case Studies, Infographics and Application Guides
Divided into two sectors – mining and construction – the microsite provides visitors access to informative brochures, real-world case studies, infographics and product application guides, all based on GSIPL's industry expertise.
The brochures offer an overview of the benefits Kixx products and services can deliver to overcome various industry challenges. Readers can find details on Kixx's range of industry specific products and essential know-hows for reducing overall operating costs, monitoring oil and maximizing ROI.
Visitors can also find case studies from clients sharing their experiences with Kixx products and services and how they've helped them on their work sites. The case studies present realistic challenges faced by teams working in the field, then provide Kixx solutions to overcome those challenges as well as the result after solutions have been implemented. The case studies are followed with actual testimonies from Kixx clients on how working with Kixx improved their business.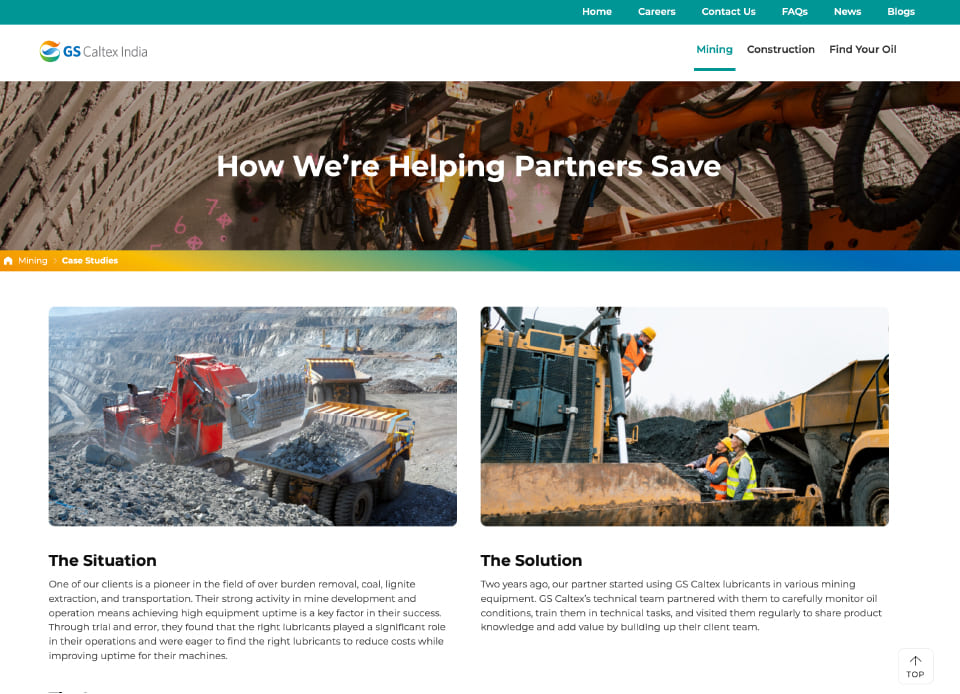 The microsite continues with infographics that intuitively layout specific use-cases for Kixx products for common jobsite equipment such as haulers and dozers. Simple graphics show visitors where the lubricant products can be applied on the equipment.
To help simplify finding the right Kixx products, the microsite also provides a link to explore lubricants by applications. Visitors can easily browse through Kixx hydraulic oils, greases, gear and transmission oils, and engine oils to find the right solutions for their needs or get a complete list with detailed information on performance standards for each solution under the "Find Your Oil" page.
From top to bottom, the new microsite delivers a library of useful industry knowledge in a simple and clean aesthetic for user convenience. Three main tabs – Mining, Construction, and Find Your Oil – take users to the information they need with just a few clicks. Uniform layout and systematic design put all the information in easy-to-find locations so visitors can quickly find and utilize the information they need.
Designed specifically for mining and construction sectors, the microsite will be an excellent resource for Kixx clients as well as other industry professionals. Along with the development of the Kixx microsite, Kixx will continue to expand its presence in the mining and construction sectors by providing superior products and services to help its current and potential clients maximize profits.