Great things are happening in Goa, India, with GS Caltex India Private Ltd. (GSIPL) wrapping another successful Annual Conference. Taking place in early April, the annual gathering brought together key channel partners and members of GS Caltex HQ for two days of announcements, insights, and entertainment. This year's conference was held under the theme of SOAR (Strategize, Optimize, Act, Rise).
Heading up the event's packed agenda was the grand reveal of a new microsite launched by GSIPL. The site, aimed at helping India's mining and construction partners get more out of their businesses, goes deep into how Kixx lubricants, greases, and services can help them overcome business challenges.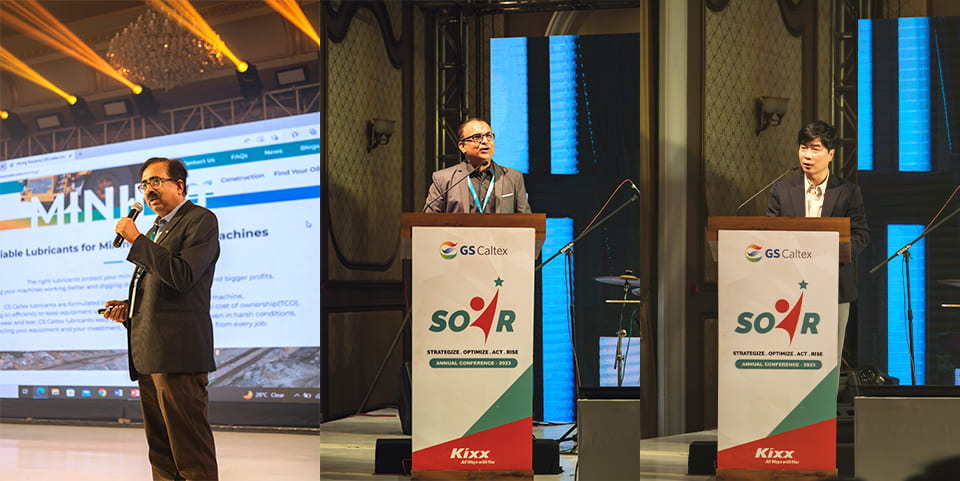 Executives including Mr. Yunkyung Yong, Mr. Rajesh Nagar, and Mr. Jayanta Ray also took the stage to announce new products and share action plans to help GS Caltex's channel partners grow in 2023. They took the opportunity to address challenges facing customers across India's retail & industrial sectors, with team-building sessions hosted by a professional trainer offering insights channel partners could build on. GSIPL's team engaged with channel partners on and off the stage for an intimate and informative agenda of discussions.
Topping off the conference were enchanting tunes and music from prominent musician Leslee Lewis and band, plus a cocktail dinner that brought a dash of rhythm to the event.
The success of this year's conference renewed GS Caltex's commitment to engaging with customers and channel partners across every platform – including in-person meetings and events. Enthusiastic responses to its global events are helping refine GS Caltex's vision for the future and tailor its lubricants and services for even greater impact. By deepening relationships with its customers in India and other markets, GS Caltex is building its position as a trusted partner in driving business forward.