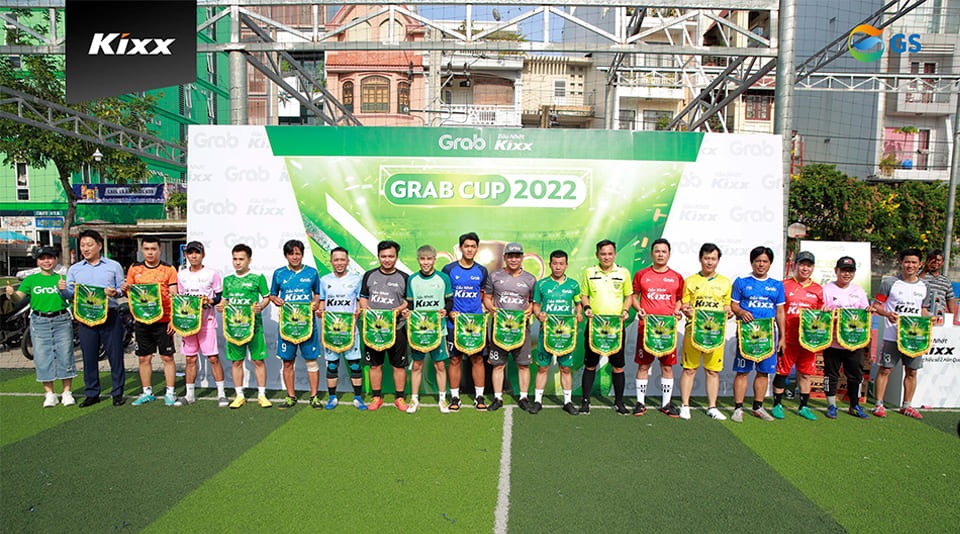 Kixx – Korea's No.1 engine oil provider – was the proud sponsor of 2022's Grab Cup in Vietnam, a soccer tournament which began in Nov of last year and came to a conclusion on Jan 6, wrapping up several weeks of energetic sport, friendly competition and multimedia engagement from fans of soccer, Grab drivers and Kixx customers alike. The Grab Cup is hosted annually by leading Southeast Asian rideshare company Grab, taking place across Ho Chi Minh City, Hanoi and Da Nang and involving the enthusiastic participation of hundreds of Grab drivers. With more than 500 competing players (all from the Grab rideshare driver community), 2,000 live spectators and 10,000 people participating through online coverage and interactive activities, the Grab Cup is Grab's biggest media event of the year and was a valuable opportunity for Kixx to spread brand awareness in the Vietnamese market proactively through the shared love of sport.
The Grab Cup was an ideal sponsorship opportunity for Kixx, with the company providing boxes of Kixx products to high-ranking teams and prizes to competition winners. In return for its support of the event, the Grab Cup helped Kixx spread brand awareness for its premium engine oil and engine lubricant products throughout the Grab driver community and the broader Vietnam engine oil market. The Grab Cup also boosted Kixx brand engagement through offline visibility and online multimedia campaigns before and during the tournament.

To celebrate the start of Grab Cup 2022, Kixx provided prizes for offline, opening-day contests that attendees could participate in at the Kixx promotional booth. After liking the Kixx Facebook fan page, some participants got a chance to answer three randomly drawn questions from a quiz, with two bottles of Kixx engine oil awarded to each winner. Another contest, held one hour before the tournament began, saw attendees test their soccer prowess by kicking footballs at targets. Competitors could win between one and three bottles of Kixx oil, depending on which targets they managed to get the ball through. These activities helped attendees get directly involved in the day's events, with winners posing with Kixx standees in photos and sharing their experiences on social media.
Online, Grab and Kixx worked together to promote the tournament in advance on numerous social media platforms, including on prominent Vietnamese platform Zalo. Amongst other things, the communications campaign was the perfect opportunity for Kixx to remind fans of its popular football skills minigame, which sees Vietnam's soccer superstar and Kixx brand ambassador Nguyen Quang Hai challenge fans to match his formidable kickup skills for a chance to win rewards. Grab's blog posts, pre-tournament social media promotions and dedicated driver app also featured Kixx prominently as a key sponsor in anticipation of the tournament. Kixx's brand was also a part of the Grab Cup livestream, which streamed on 12 Dec, during which an MC guided viewers through the cup's events and post-game recaps, presented minigames and delivered messages from central sponsors.
Kixx is proud to have sponsored the latest iteration of the Grab Cup in partnership with Grab, celebrating a community-driven love of sport and widening its exposure in the valuable Vietnamese engine oil market. Recognized by First Brand Awards as Korea's No. 1 engine oil brand, Kixx has strong connections with customers all over the world, including India, Vietnam, China, Russia and more, and will continue to deliver premium quality products, host coordinated multimedia brand experiences and develop innovative engine solutions for the customers of the present and future.