GS Caltex India Private Limited (GSIPL) has launched Kixx Friendship Day campaign, which will be conducted during the month of August in celebration of Friendship Day. Centered around the company's slogan "All ways with you", the campaign aims to strengthen brand awareness while highlighting the many unique relationships in our lives.
Included in the campaign are several activities such as multi-city radio ads, collaborations with popular social media influencers, a social media contest as well as media coverage highlighting such activities. It also features a film following two friends on a road trip, illustrating the importance of engine oil as a priceless companion to a vehicle's engine.
Why Friendship Day?  
Though Friendship Day is held at different times throughout the world, in India the first Sunday in August is set aside for this special holiday. Each year, friends and family usually celebrate this day by spending time together and tying friendship bands on each other's wrists. These bands serve as a symbol of promise to be each other's best friend forever.
GSIPL has focused on the concept and significance of Friendship Day, honoring and commemorating the relationships that make our lives better. GSIPL's Friendship Day campaign goes a step beyond this concept, not only highlighting friendships between people, but drawing from the crux of Friendship Day to feature Kixx engine oil as a trusted companion for your vehicle's engine. No matter what the road may look like, Kixx is "All ways with you".
Kixx Friendship Day Celebrates Comradery
A short YouTube film has been created to strengthen the Kixx Friendship Day campaigns' message. In the film, which has been shared on social media platforms, viewers can experience the journey of two friends taking a road trip together on Friendship Day. The storyline brings the audience back to fond memories of times shared with their best friends while illustrating the essential relationship between engine and engine oil.
The Kixx Friendship Day campaign also covers a wide range of mediums from radio activity to digital media coverage and has been featured on several online news platforms including "The Print" and "exchange4media" (e4m). Social media platforms such as LinkedIn, Facebook and Instagram host the majority of the campaign's activities including static posts, a contest for followers and influencer collaborations.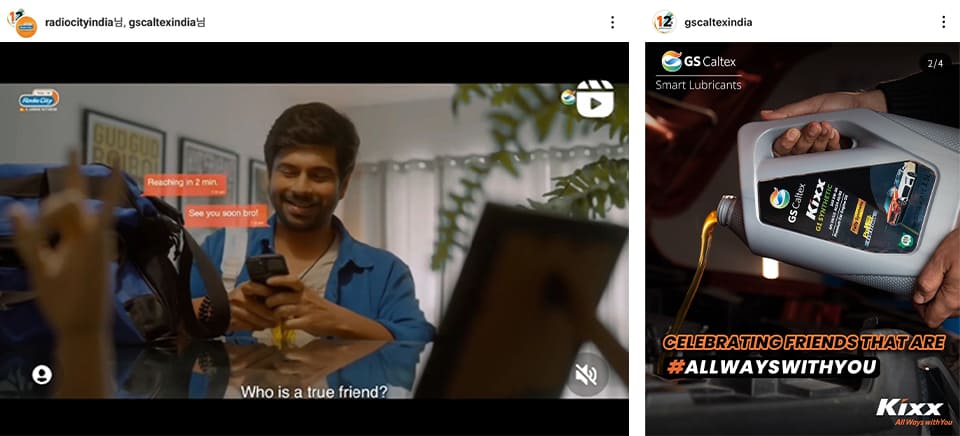 In addition to its digital activities, GSIPL has also hosted in-person events as part of the campaign, featuring Kixx mascot meetings and interacting with area mechanics to further strengthen brand recognition within local communities.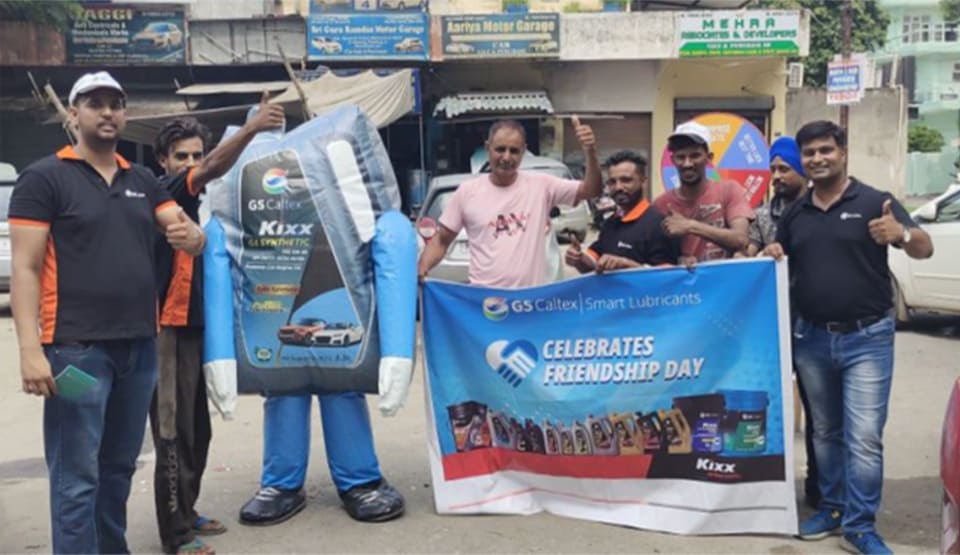 A Friend for All Seasons 
A good friend adds value to our lives and is always there for us regardless of where we may find ourselves on life's journey. An excellent engine oil holds many of these same qualities. Since the engine is the heart of a vehicle, choosing an engine oil that will act as a good "friend" to your vehicle's engine is crucial to its performance and longevity.
Kixx's complete lineup of high-quality engine oils have been formulated to deliver premium performance, even under extreme conditions. With its enhanced wear prevention and lasting engine protection, Kixx engine oil is an engine's best friend for any road, through any season.
Crafted Products for Quality Care 
Formulated with GS Caltex's cutting-edge technology, Kixx's range of automotive lubricants have earned the trust of customers in over 63 countries, including India. Kixx, recognized by First Brand Awards as Korea's leading lubricant, is proud to be a brand known for its top-tier offerings, and will continue to provide excellent products and services throughout the world.