On Feb 2, GS Caltex India (GSIPL) launched a campaign celebrating its second National Mechanic's Day. Feb 2 is also GSIPL's Foundation Day anniversary – the thirteenth since the company's establishment in 2010. The campaign's aim is both to commemorate the company's foundation anniversary and to raise awareness of the vital role mechanics play in the lives and livelihoods of people everywhere.
This year's campaign – which will run to 28 Feb – has already met with widespread success and engagement. Spanning social media campaigns on Facebook, Instagram, LinkedIn and Twitter, collaborations with prominent influencers, radio promotions, digital PR efforts and offline activities, one of the main focuses of the campaign is its viral #GaadiKeDoctor video, which features the story of a mechanic and his family. Within about two weeks of launch the video racked up 3 million views on YouTube and has been warmly received by the online community.
In the video, a mechanic called Ganesh and his family get a visit from his daughter's schoolteacher and her doctor husband. The couple have arrived to thank Ganesh for fixing their car, and have brought him a cake to celebrate National Mechanic's Day. The doctor points out that Ganesh, as a mechanic, is his automotive equivalent ("Gaadi Ke Doctor" translates into English as "Car Doctor") with his daughter's teacher emphasizing that without mechanics like Ganesh, everything would come to a grinding halt.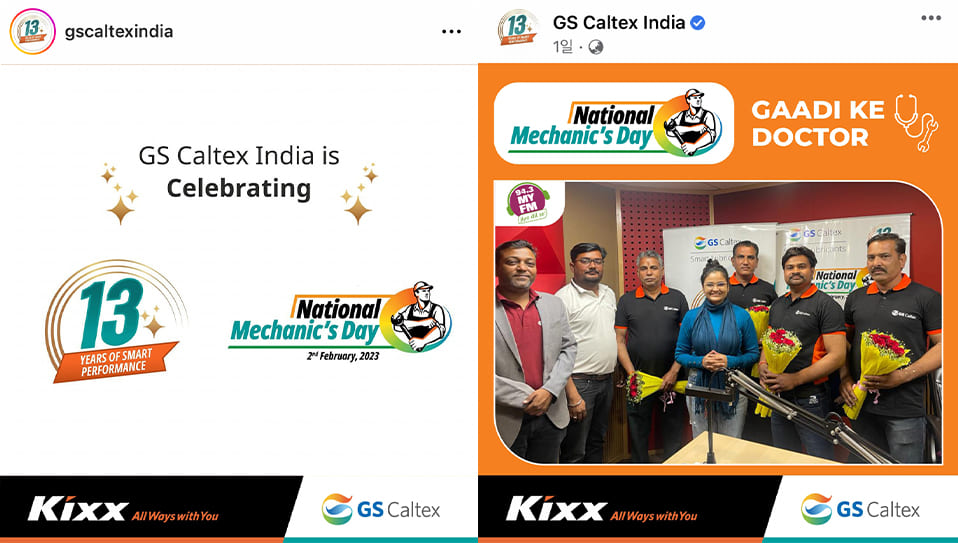 Beyond YouTube, a key goal of the social media campaign has been to introduce the #GaadiKeDoctor video and its celebration of National Mechanic's Day to new audiences. To help spread awareness, GSIPL has been working with notable automotive influencers and prominent radio jockeys. The company has also launched advertisements broadcast on multiple radio stations and arranged for mechanics to visit radio studios in Ahmedabad, Jaipur, Lucknow, Indore, Amritsar and Chandigarh. The campaign has also involved a range of offline activities, with GSIPL showing its appreciation for mechanics at events in over 50 locations.
Across India, GS Caltex and its top-tier lubricant brand Kixx are proud to honor the mechanics that keep vehicles moving and economies thriving. From 2-28 Feb – with the thirteenth anniversary of its entry into the Indian market and close ties to valued customers all over the country – GS Caltex India's Foundation Day and National Mechanics Day give the GS Caltex family a lot to be thankful for. GSIPL and Kixx will continue to celebrate and support mechanics, delivering high-quality brand experiences and industry-leading products to a growing base of customers and partners globally.