LANGUAGE :

Vietnamese

India (Hindi)

Russian
Korea's leading lubricant brand Kixx has released another digital campaign film. The second film builds on the initial brand video, which was released on July 22 and stars world-renowned b-boy group, Jinjo Crew.
While the previous film is focused on representing the excellence of Kixx lubricants through Jinjo Crew's dynamic, powerful choreography, the new film focuses on explaining how the strengths of Kixx solutions truly deliver on the company's brand message, 'Awaken Excellence'. Each key characteristic of the lubricant is intuitively visualized as scenes of the b-boy dancers performing are interspersed with graphics of an engine functioning. High energy moves such as head-spins are used to express the 'dynamic movement' that Kixx lubricants provide, dynamic yet restrained group moves represent 'enhanced stability', vertical leaps depict 'high-powered performance', and fluid, flowing engine oil represents 'superior protection'.
The combination of the various scenes demonstrate for the viewer how Kixx lubricants bring 'optimized performance' to engines.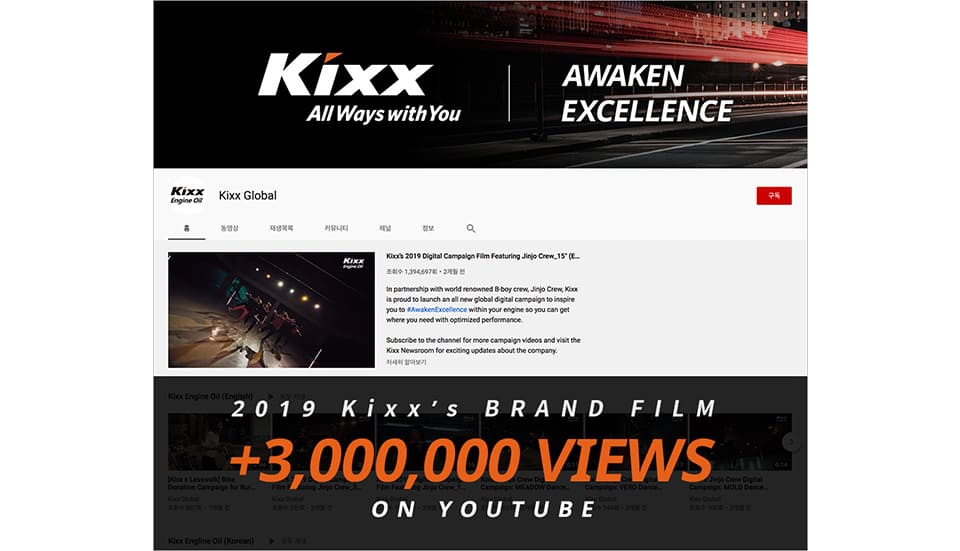 While the English version of the first brand film reached 1.39 million views on its own, the English, Vietnamese and Russian versions combined drew more than 3 million total views after being aired on Kixx's official YouTube channel. This impressive result is attributed to the brand's ability to communicate the elements of a lubricant brand through the medium of dance. Utilizing YouTube as the main channel for transmission has also helped draw the attention of consumers for whom YouTube is a primary point of media interaction.
"We are glad to be able to offer a second digital campaign film after all the interest our customers around the world showed in the first video," said Eunjung Choi, Team Leader, Finished Lubricants Marketing Strategy Team. "While the first film was a starting point that allowed us to depict our brand as dynamic by connecting it with b-boy dancing, we hope the second film will help our customers understand the distinct strengths of Kixx lubricants and the benefits they ultimately bring to the driving experience."
To see more campaign videos, please visit Kixx's official YouTube channel.