LANGUAGE :

Vietnamese

India (Hindi)

Russian
Every time Shikar Dhawan steps on to the cricket field, he is up for any challenge the opposition or the conditions may present. His ability to adapt his game to succeed against odds has helped him become one of India's most successful opening batsmen. It's this very quality of his that made GS Caltex select him as the face of the company's Kixx brand of lubricant in India.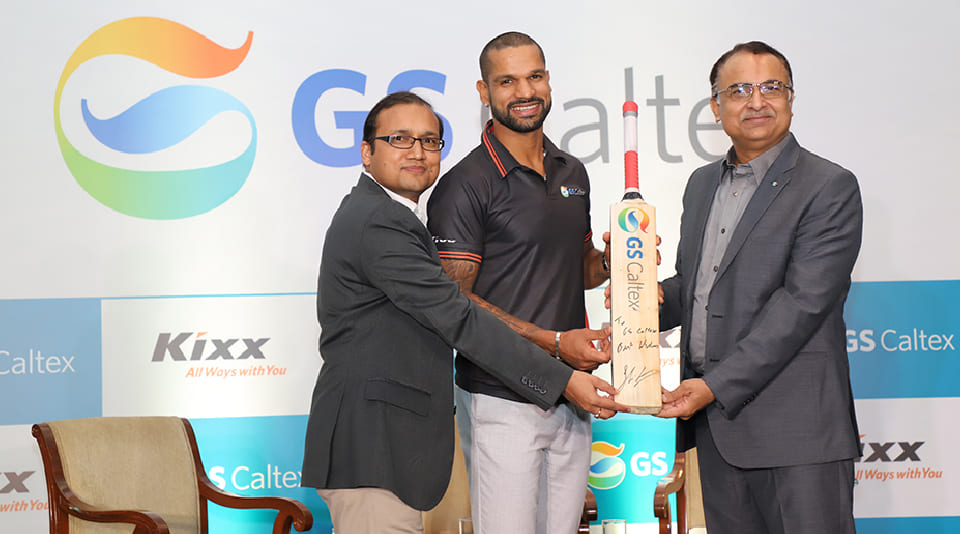 Shikhar Dhawan and GS Caltex officials hold a signed cricket bat to commemorate the partnership
GS Caltex made the announcement in the presence of media at a live event on the 24th of April 2019 at the Taj Lands End, Mumbai. The company officials and Dhawan also participated in a Q&A session, where they spoke about Dhawan's collaboration with Kixx and his achievements as a cricketer.
"We see many similarities between our products and Shikar," said Mr. K. Madhu Mohan, GM Marketing, GS Caltex India Pvt. Ltd. "Shikhar has an effortless, inimitable style about him – the kind that many hope to have, but few can achieve. His consistent, outstanding performances against different opposition teams in different conditions bespeak his skill and class as a cricketer. It's also exactly what our own products stand for – consistently superior performance in all kinds of conditions. Shikhar personifies our brand proposition, "Smart Technology for Smart Performance", making him a worthy ambassador for our brand."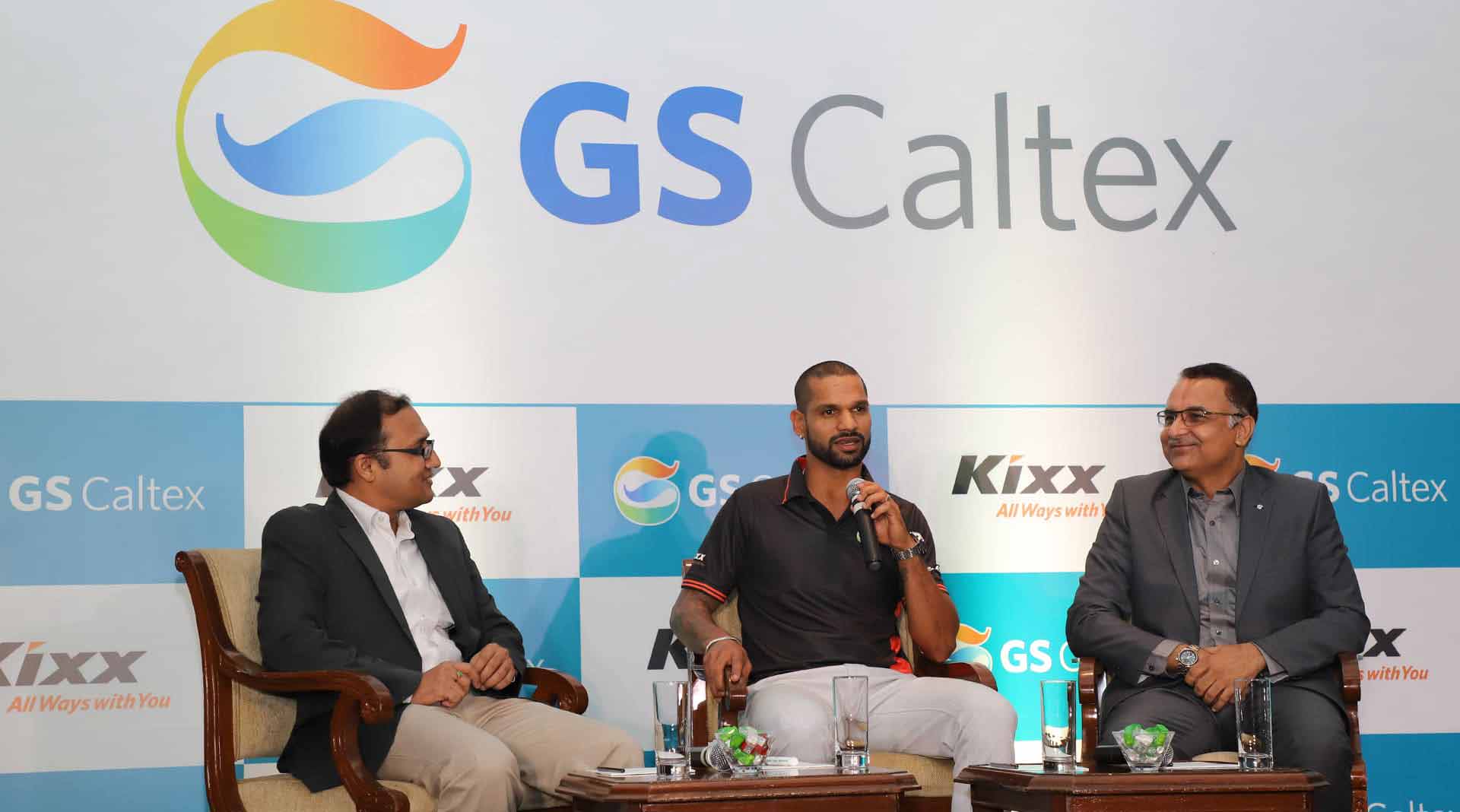 Shikar Dhawan answers questions at the press event celebrating the new sponsorship
Dhawan, commenting on his association with Kixx, said, "Kixx is globally known for its reliably great performance, and I look forward to a long and fruitful association with the team. I will do my best to represent the brand and try, as always, to live up to the trust and the expectations of the people of my country."
Dhawan's most recent success on the cricket field was when he scored a century to help India beat Australia in the ongoing Cricket World Cup 2019. Unfortunately, he received a blow on his left thumb during the match, which resulted in a hairline fracture that ruled him out for the remainder of the tournament.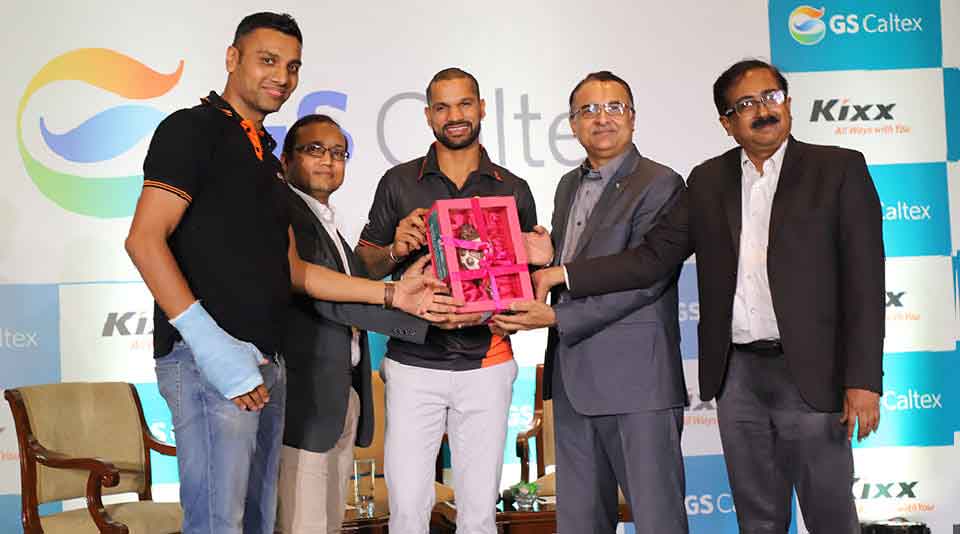 GS Caltex officials present Shikar Dhawan with a gift to celebrate the sponsorship deal
Outside his national duty, Dhawan last played for Delhi Capitals in the hugely popular Indian Premier League and is one of the most sought-after cricketers in the league. He started playing for India's national team in 2010 – coincidentally the same year that GS Caltex established GS Caltex India Private Limited (GSIPL), an India-based subsidiary. Both Dhawan and GSIPL have gone from strength to strength in the years since. While Dhawan won accolades that included the CEAT International Player of the Year for 2013-14 and the CEAT International Batsman of the Year in 2018, GS Caltex grew into a player to reckon with in the Indian market.
GSIPL supplies lubricant products to companies such as AJAX, Kohler, AMMAN India, Sunbeam Earthmovers, DYMOS, Windsor – all of who are extremely happy with the quality of the products.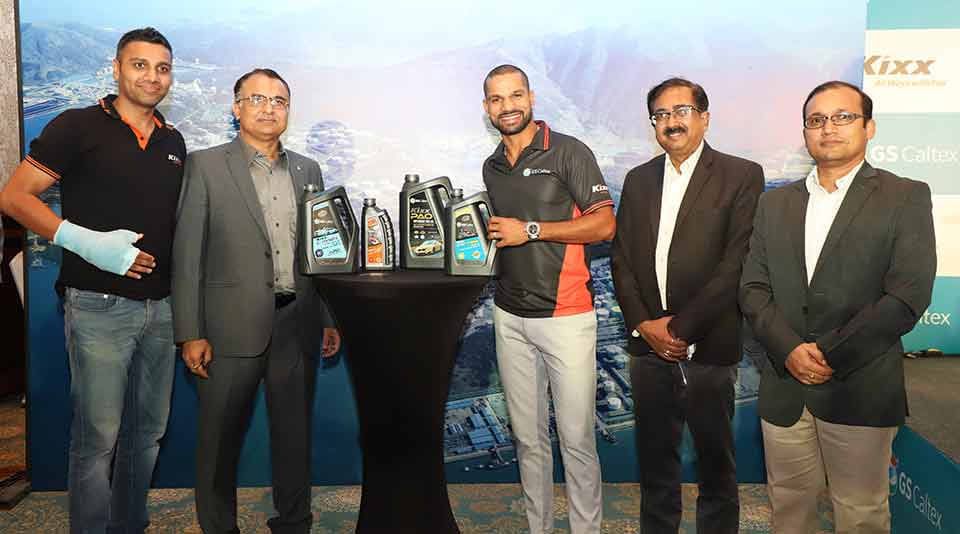 Shikar Dhawan showcases the Kixx brand lubricant alongside GS Caltex representatives
GS Caltex's aims to meet that demand and, in partnership with Dhawan, make Kixx the No. 1 brand in India.
To learn more about Kixx brand lubricants visit the company website at kixxOil.com